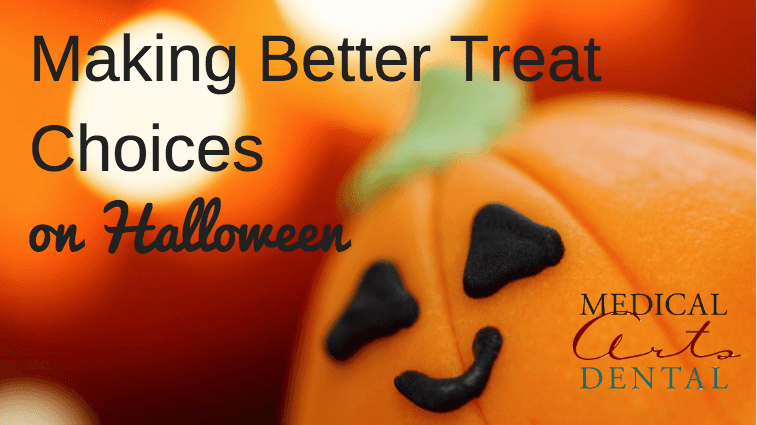 20 Oct

Making Better Treat Choices on Halloween

With Halloween right around the corner, do you know how to satisfy your sweet tooth while protecting your oral health? Luckily, there are many ways you can get a fixing of sweets without wreaking havoc on your oral health. Picking some healthier choices can make a great difference.

Caramel lollipops —the combination of caramel and hard candy—are some of the worst offenders on your health. They take a lot longer to dissolve which gives more room for decay-causing bacteria to thrive. Instead, choose Dum Dums which are much smaller, dissolve more quickly, and are free of gummy and sticky caramel.

Caramel candies , like Snickers and Twix, have a similar effect on your teeth. Instead opt for peanut M&Ms or a Kit-Kat bar, both of which are better options. Peanut M&Ms, especially, can be a good choice because they contain less glucose and the nuts provide healthier fats and some protein.
In addition to healthier candy choices, gum can be an excellent choice. Chewing gum can stimulate extra saliva production which rinses out your mouth and keeps plaque-causing bacteria away. Take care to choose sugar-free, all-natural gum for the healthiest option.

Outside of candy, there are plenty of excellent options for Halloween Trick-or-Treaters. Choose small boxes of animal crackers, packaged cheese and crackers, applesauce, pumpkin seeds, raisins, and healthy baked chips. Stickers, temporary tattoos, dollar store party favors, and crayons are wonderful food alternatives that little Trick-or-Treaters will enjoy greatly.
For more information on protecting your oral hygiene and to schedule a pre-Halloween Dental Exam , visit Medical Arts Dental.