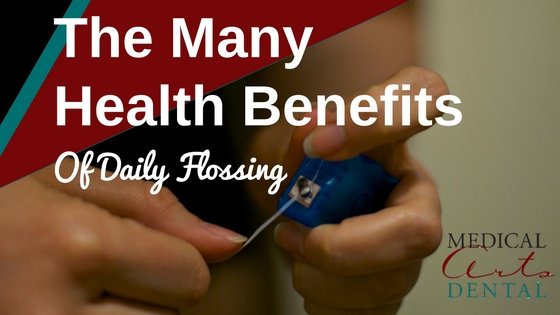 27 Sep

The Many Health Benefits of Daily Flossing

Despite being such a vital step in our oral hygiene process,

only 30% of Americans floss daily 

. Did you know that flossing can not only remove food from between your teeth, it can help save your life? That's right. Brushing 

and 

flossing can help remove bacteria and plaque that would otherwise lead to poor oral hygiene and many adverse medical conditions. Take a look at the five most compelling reasons as to why you should floss every day:
     Prevent gum disease and cavities . Bleeding gums and excessive bacteria in your gums could put you at greater risk of gum disease. Studies have suggested a correlation between gum disease and other serious medical concerns such as heart disease, increased risk of stroke and dementia, and even low birth weight in newborn babies .
     Prevent complications of diabetes . According to the Mayo clinic , people with diabetes are at a greater risk of developing gum disease, which makes brushing and flossing especially important. Additionally, when a person has diabetes, their organs can heal more slowly. This can mean that tissue inflammation can develop more rapidly and heal more slowly, making it even more difficult to heal.
    Remove plaque that would otherwise lead to danger . Beyond removing food from between your teeth, flossing removes the plaque that just brushing cannot. Plaque and tartar can build up and lead to gum disease such as gingivitis, which is an inflammation of the tissue. When left untreated, gingivitis can lead to periodontal disease which is the leading cause of tooth loss.
    Prevent dry mouth . Saliva helps to wash away bacteria and acts as a natural disinfectant in your mouth. Without it, bacteria have an easier time of festering in your mouth. Regular flossing can help compensate for dry mouth by removing more of the bacteria that the salvia would have killed. And with the side effect of many common medicines and treatments being dry mouth, seniors have an even greater risk of oral health diseases and even more reason to remember to floss.
     Kids need to floss, too! Your children are never too young to start flossing. As soon as your child has two teeth that touch, it is time for them to start flossing. Since younger children still lack manual dexterity, little hands and fingers will need extra help to do a thorough job. Kids can become more independent at flossing around the ages of 10 and 11.
Your gum and teeth health are linked to your overall physical health. Clean between your teeth every single day to remove plaque that is otherwise missed from merely brushing. Remember that flossing can take as little as a few minutes every day, but can bolster your oral hygiene and overall health. Floss and brush regularly to be on the way to healthy gums and teeth. For more information on 
preventing gum disease 
and on proper 
cleaning and prevention 
, visit 
Medical Arts Dental 
.